Lessons from the C-Suite-February 2023
Our Women in the C-Suite event, sponsored by Hirtle Callaghan & Co and expertly moderated by Katie Hamill, Head of Talent at Hirtle Callaghan & Co,  featured three of the most successful C-Suite Executives in our industry, Erica Evans, Head of Client Engagement, Hirtle Callaghan & Co, Cathy Ulozas, CIO Drexel University and Alison Rogers-McCoy, Chief Human Resources Officer, Brandywine Global Investment Management. The panel generously shared some of the critical learnings and challenges they have encountered on their road to Executive leadership.  With supreme authenticity, these leaders offered guidance on the qualities and traits  they believe are necessary for success at the C-Suite level. Lessons shared included the importance of taking risks and saying yes to new and challenging assignments, and the value of understanding and respecting the history and experience that your team and peers bring to the table.  They also emphasized critical characteristics such as maintaining a growth mindset, staying transparent about your intentions,  having empathy and the importance of loyalty supported by candid feedback. The panel seamlessly interacted as if they were old friends and the moderator kept the discussion moving with bold questions that encouraged honestly and vulnerability from the panelists.
We are thankful to Hirtle Callaghan & Co for their sponsorship, the wonderful venue, and delicious food. We also appreciate their request to sponsor an event in 2024 and we look forward to working with them again. .
New Member Meet & Greet-February 2023
On Monday, February 13 we had an opportunity to interact with some of our new members!
It was such a treat to see new members who joined us to learn more about all of the great benefits of WIN membership, ask questions, and get to know Tracy L Musser WIN co-founder and President, as well as board members Maxine Dotseth,, Denise Iemolo, and Staci Wilhelm!
Welcome again new members! We look forward to your participation in WIN for many years to come!
Member only Kickoff-January 2023
What an evening and kickoff to 2023! WIN was thrilled to welcome Stacy Havener of Havener Capital Partners – the Rebel who ROCKED WIN! Stacy's message of "Rebel" is a defining tagline for a proclaimed introvert, powerful storyteller, and successful founder. Her authenticity and storytelling ability are incredibly powerful and she brought out the best in our members by helping us learn how to step up to our brand authenticity and embrace relatability.
Another highlight of the evening was John Wind sharing his story of taking pieces of history and artfully fashioning them into beautiful pieces of jewelry. With the assistance of sales of his unique jewelry at our event, WIN is proud to donate $1,000 to Rock the Street Wall Street (RTSWS). RTSWS has been selected as WIN's 2023 not-for-profit beneficiary providing support to RTSWS's financial literacy program in the greater Philadelphia student community.
THANK YOU to Stacy, John and especially our members in attendance for making WIN's first event of 2023 such a great success!
Holiday Social-December 2022
On Thursday, December 1 WIN members gathered at the beautiful Barn at Valley Forge Flowers to toast the upcoming holidays and even cross a few items off their holiday gift lists!
Thank you to all those who attended and made it a special evening for all!
Golf Outing with CFA Society of Philadelphia-November 2022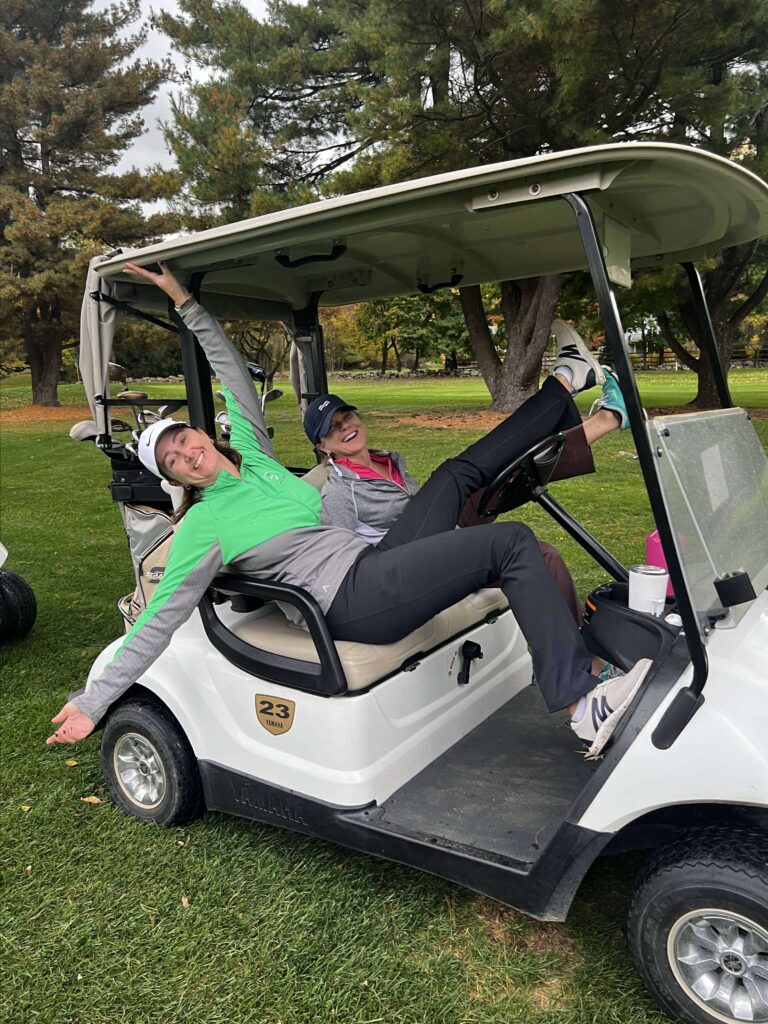 WIN and CFA Society of Philadelphia members enjoyed a day of golf at the beautiful Phoenixville Country Club. There was a clinic and nine-holes of golf for this Monday afternoon. Light bites and cocktails were enjoyed by all during the networking.
8,000 Days of Retirement-October 2022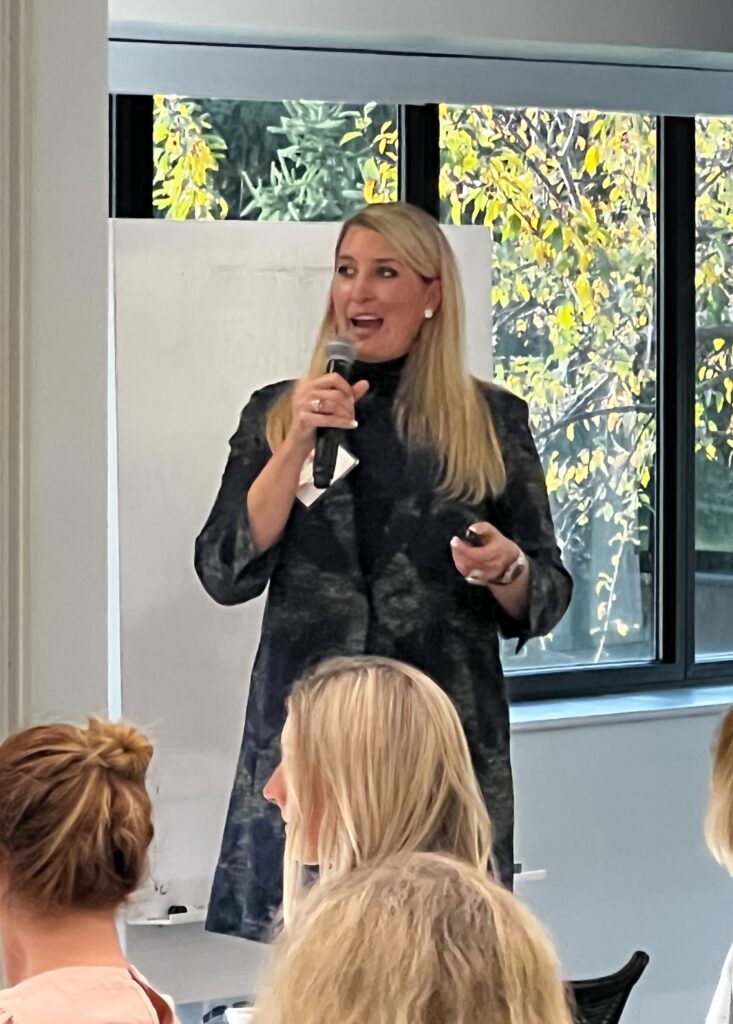 8000 Days of Retirement, an evocative discussion regarding the choices, decisions and challenges associated with life after retirement. In an age where the life expectancy for many extends into the 90's, retirement is no longer static and requires a broader range of planning. Today's retirement horizon will, on average, span multiple decades and multiple phases requiring deliberations beyond the realm of finances. Julie Genjac, Vice President and Managing Director, Applied Insights at Hartford Funds challenged the WIN audience to think differently about retirement citing the importance of considerations such as living environments, opportunity for social engagement, mobility, dining and safety. Given the relevance of these decisions, Julie suggests that the role of the Financial Advisor will evolve to support retirees in the decision-making process as well.
Professional Designation Alphabet Soup-September 2022
We had an engaging discussion from our panel of industry professionals during the Professional Designation Alphabet Soup event, sponsored by Janney Montgomery Scott. The panel summarized and highlighted the similarities and differences between various designations, certifications, and graduate programs in our industry.
Our esteemed panelists were Lynn S. Erskine, Senior Vice President, Northern Regional Manager, Janney; Nicole Kruman, Vice President, Policy Governance, BNY Mellon; Brenna Sermarini, Investment Solutions Data Analyst, Design Thinking, Facilitator, SEI; and Jennifer McDonnell, Managing Director, Institutional Investments Distribution, Nationwide Financial.
Design Thinking Sprint Experience-September 2022
Design Thinking Sprint Experience, sponsored by SEI, was a hands-on workshop that taught us creative problem solving. Marla Carson, Head of Culture and Engagement along with Collin Keen Director of Collaborative Design at SEI, led working groups through a step-by-step approach to reaching an end-goal with the user in mind. Marla explained what can happen when project decisions are rushed and user empathy is an after-thought.
BLURT !?%*: Can I Say That-August 2022
Sponsored by Dakota, was an engaging twist on DEI. Speaker Romaine Wright, focused on the subtle unconscious biases we possess that can negatively impact our relationships and influence our perceptions of differences in people across all aspects of our lives. She also explored the concept of micro-aggressions; the notion of expressing something intended to be a compliment, which in reality is received as a criticism or offensive in nature. Lastly, the workshop touched on a very topical issue: The Impostor Syndrome and one can rise above this obstacle. Romaine concluded the evening with exercises and tips for countering misperceptions and combatting unconscious biases such as increasing empathy for differences, raising our own self-awareness, as well as the importance of noticing when negative thoughts occur and reframing those with positive thoughts.
Annual Summer Social-July 2022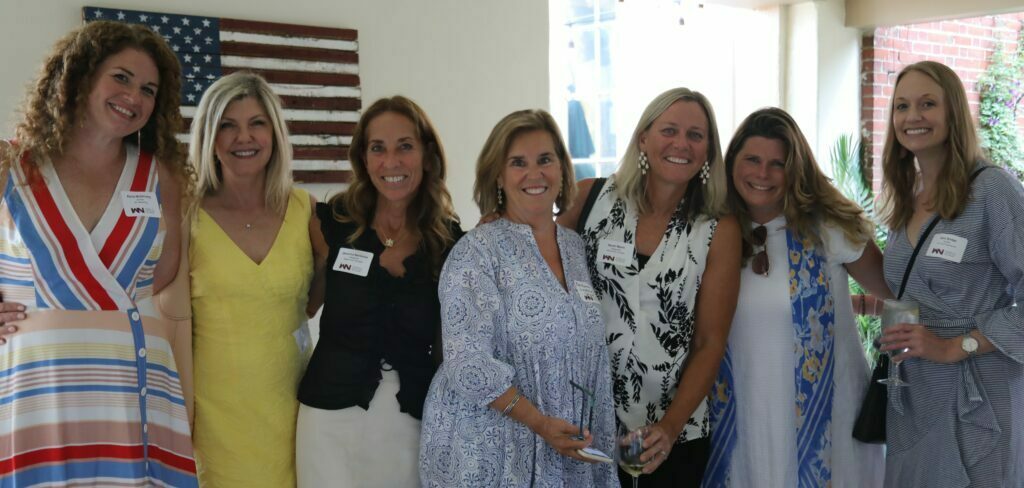 Once again our annual tradition had a beautiful night at the beautiful Overbrook Golf Club. The event was a great demonstration of the connectedness of our membership and the benefits of a strong network of some of the smart and capable women who make up the fabric of WIN.
Crypto & The Future of Investing-May 2022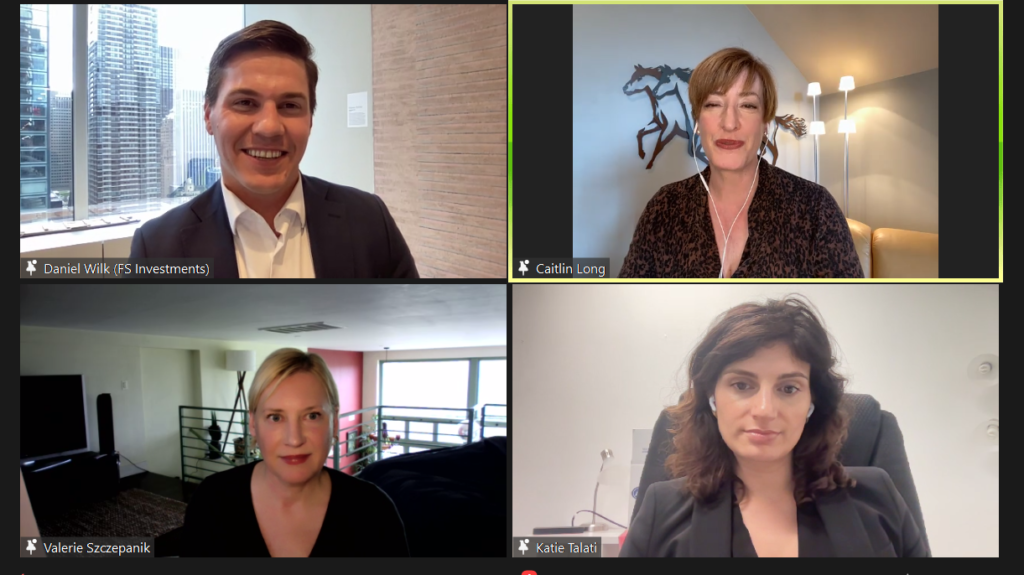 WIN was delighted to host three influential women involved in crypto and digital assets to discuss everything from the current regulatory landscape, securities laws, as well as the significant impact blockchain technology can have on traditional finance. Our Panelists included Caitlin Long, Founder & CEO of Custodia Bank, Valerie Szeczepanik, Director of the Strategic Hub for Innovation and Financial Technology (FinHub) at the SEC, and Katie Talati, Director of Research at Arca.
Our panelists shared their unique perspectives on the challenges crypto and digital assets have as a nascent asset class, while providing context as to where the space could be headed if it were to fit within traditional financial infrastructure. As crypto adoption continues its rapid growth worldwide, the institutional community is recognizing the technology's benefits of greater transparency, capital efficiency, settlement finality, and more. Today, education on the topic at large remains the most important component for the community.
Thank you to our event host FS Investments.
Spring Wardrobe Refresh-Anthropologie-May 2022
Thank you to all of our members and their guests (a sellout at 40 people!) who were able to join us at Anthropologie for wine and appetizers by Terrain, acoustic guitar (Emily Drinker), and a presentation by the Stylists (Deb and Michelle). What an unexpected surprise to receive a shopping discount too! We were thrilled with the turnout and to see so many of you in person. Please spread the word about a membership with Women In Investing as we continue to plan more in-person events throughout the year.
Addressing Climate Change Through Thematic Investing-April 2022
This successful event featured 3 world class experts on ESG, Impact and Sustainable investing that spoke to the importance of addressing Climate change, recognized as a material ESG risk that is a threat to the global economy. Panelists included Fong Yee Chan, Vanguard's Head of ESG Strategy for Europe, Kerry McCarty Zortea, CFA, Senior Impact and Sustainability Analyst, Macquarie Asset Management and Louise Kooy-Henckel, Managing Director, Wellington Management Company.
Our Panelists shared their perspectives on industry trends, and shed light on the financial Services industry's response in the form of sophisticated products and new strategies offered to address investors' increasing desire to align their investments with their values. In addition, our panelists generously shared details of their professional journeys and advice for building a career in the ESG, Impact and Sustainable investing segment.
Thank you to our event host Vanguard.
Music Happy Hour & Trivia hosted by Judy Arnold-March 2022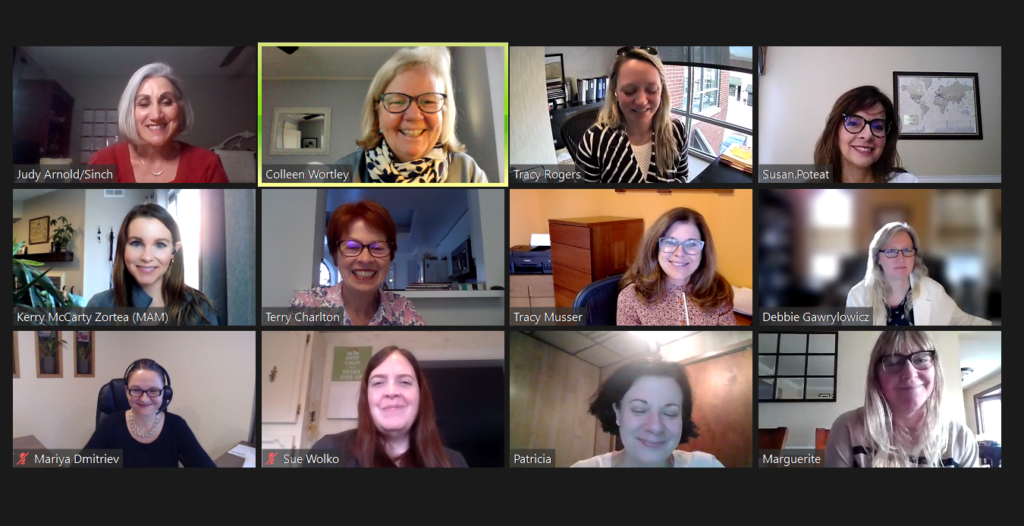 On Wednesday evening, WIN member Judy Arnold lead us through an interactive, lively, music-themed virtual trivia night and happy hour. All our members had so much fun, learning about Irish music, female artists, networking with each other, and laughing along the way. We also heard from WIN member Mariya Dmitriev who graciously shared her Ukrainian story with us and her Ukrainian charity of choice benefitting orphans who are largely being forgotten in the midst of this war. Please access the link to Agape which we have shared if you would like to donate to the cause. This non-profit has no affiliation with WIN, but has simply been identified as an organization doing good that is near and dear to Mariya's heart. We hope to see you at the next members only trivia and happy hour!
Recharge Your Brain and Your Life…Practical Tools to Master Energy and Shift Stress for Good-March 2022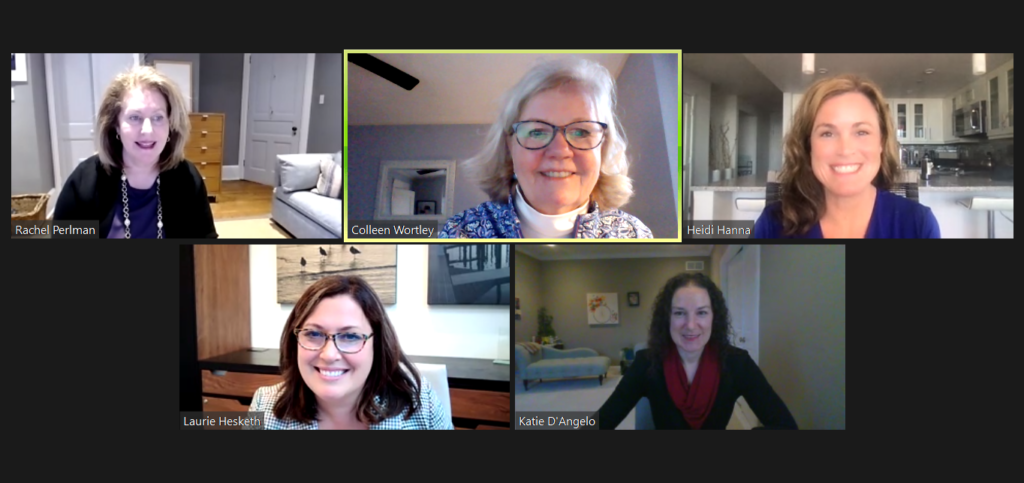 We recharge our phones, our smartwatches, and our headphones…all things that make our lives easier. But when our own internal battery is running low do we take enough, or even any time, to recharge ourselves? Our March event with Dr. Heidi Hanna, "Recharge Your Brain and Your Life…Practical Tools to Master Energy and Shift Stress for Good." shared how to do just that for ourselves.
Sponsored by Boenning & Scattergood, Inc. & KPMG US, Dr. Hanna guided through ways to better harness our human capital and the power of the brain. Based on the latest neuroscience of stress, mindfulness, and motivation, participants were walked though research-driven guiding principles to help better optimizing brain health and fitness. In case you missed it, below is a link to the session.
Thank you again Dr. Hanna, Boenning & Scattergood, and KPMG for a fabulous event!
How to Thrive: Negotiating Successfully as a Woman, Led by Kathryn Valentine, Founder of Worthmore Strategies-February 2022
WIN is proud to have kicked off our first member-only event of 2022 with Kathryn Valentine of Worthmore Strategies who guided us through an amazing conversation on Negotiating Successfully, specifically negotiation tips and formulas for women.
In addition to helping us sharpen our negotiation skills, attendees learned so much from Kathryn, including the difference between the gender COMPENSATION and SALARY gaps, and that men tend to have larger teams in the workplace than women which often "justifies" their higher pay.
Many thanks to Kathryn for spending time with us for a wonderful session of learning and networking.
Resiliency: Fireside Chat with Joyce Chang, J.P. Morgan-January 2022
WIN's first event of 2022 "A Fireside Chat with Joyce Chang", JP Morgan's chair of global research. Joyce shared her journey growing up the daughter of immigrants in a rural, Midwest town to her professional career as an Asian female leader in investment management. In addition, she shared will markets will remain resilient? What are the hidden risks we should be watching out for. As the pandemic has galvanized investors' interest in ESG matters, such as climate risk, social justice, what should investors expect in 2022 and beyond. Thank you to our event host Lincoln Financial Group.
Annual Holiday Social-December 2021
On December 8 WIN members gathered in person at Fleming's in Radnor to connect and celebrate the holiday season. Thank you to all who attended and for those who could not we missed you and hope to see you at our next in-person gathering! In the meantime, Happy Holidays to all.
Looking back at 2021 and ahead to 2022-December 2021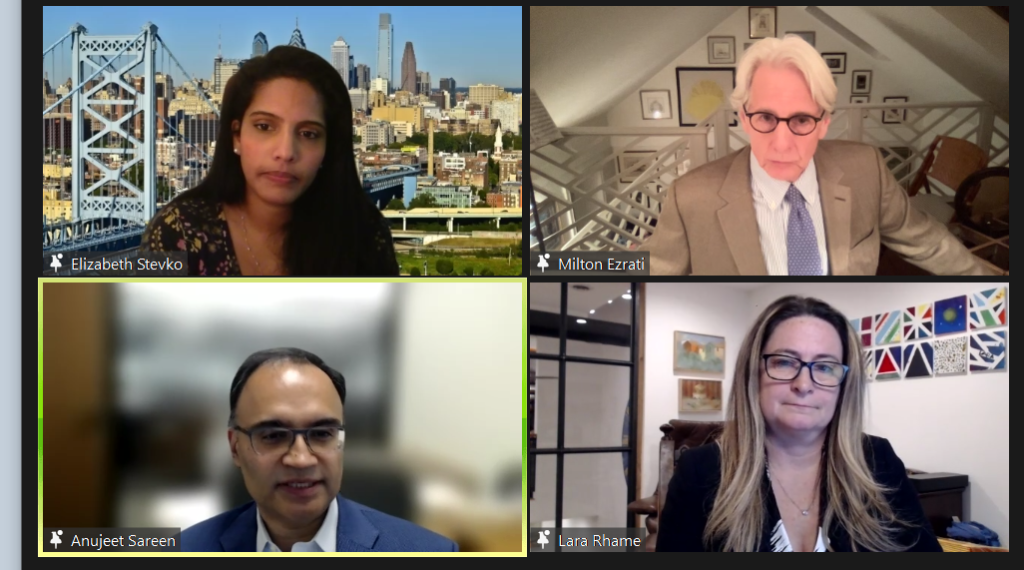 This captivating panel discussion moderated by Elizabeth Mathew Stevko featured industry and economic though-leaders including Milton Ezrati, Chief Economist of Vested, Lara Rhame, Chief US Economist, FS Investments, and Anujeet Sareen, Lead Portfolio Manager Global Fixed Income, Brandywine Global. The panelist shared their candid and in some cases, divergent perspectives on the US economy and expectations for the year ahead. They opined on topics such as inflation, trade, income and equality, inflation, supply chain disruption, and what could be in store as we shift to a "newer normal" post pandemic. Thank you to our event host Brandywine Global Investment Management.
Intentional Leadership-October 2021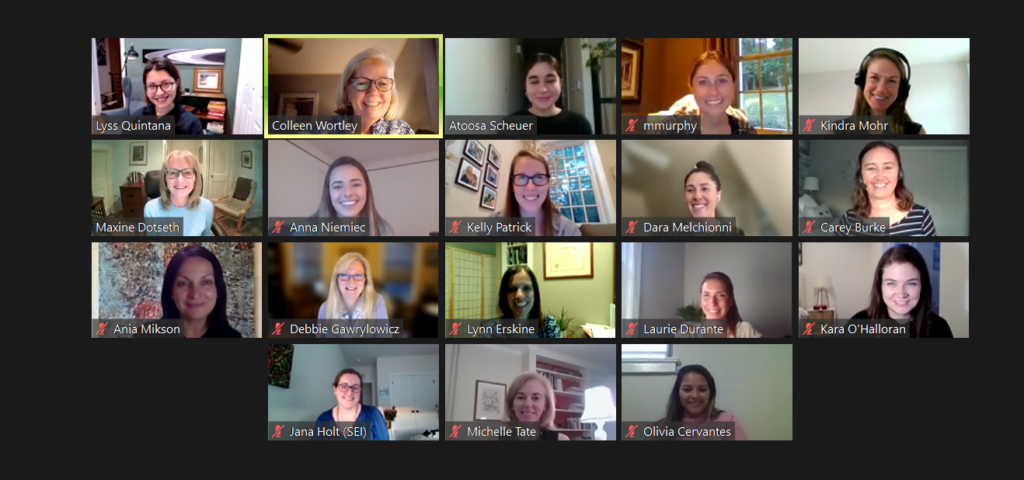 FS Investments hosted a session on Intentional Leadership presented by Lyss Quintana, Head of Organizational & Leadership Development at FS Investments and Atoosa Scheuer, Talent and Organizational Development Analyst at FS Investments. During the session, attendees reflected on their own behavioral styles and discussed the importance of increasing one's self-awareness and adapting to others in order to learn, grow, and demonstrate inclusive leadership.
The Power of Ask-September 2021
Dr. Terri Boyer, Founding Director of the Anne Welsh McNulty Institute for Women's Leadership at Villanova University is an advocate for economic and social equity for all women. She works to build awareness and help women to develop the skills necessary to advance women in leadership.
During the presentation, we explored how to go about getting what you want in life through the power of ask. Terri touched on our communication skills, negotiation techniques and even how the double bind can affect us. One of the most important takeaways was to practice, practice, practice!!
Q&A with Maria Bruno: Wealth Planning in the Age of Uncertainty-August 2021
The event featured a virtual fireside chat with Maria Bruno, head of U.S. Wealth Planning Research, moderated by Laura Hunt, a Relationship Executive in Financial Advisor Services, both from Vanguard. During the presentation, Maria shared her expertise focusing on wealth management fundamental principles which help individuals navigate the very emotionally-charged task of investing. She also provided insight on investing challenges unique to women, the impact of COVID on investors, and how to define a diverse team. Maria's exciting career journey started as a member of the first Vanguard recruiting class from Villanova. Another of her "firsts" was as a new financial planner when Vanguard started offering advice in 1996. Maria encouraged meeting participants to express their investing curiosity and seek understanding by always asking "Why?".
Annual Member Summer Social-July 2021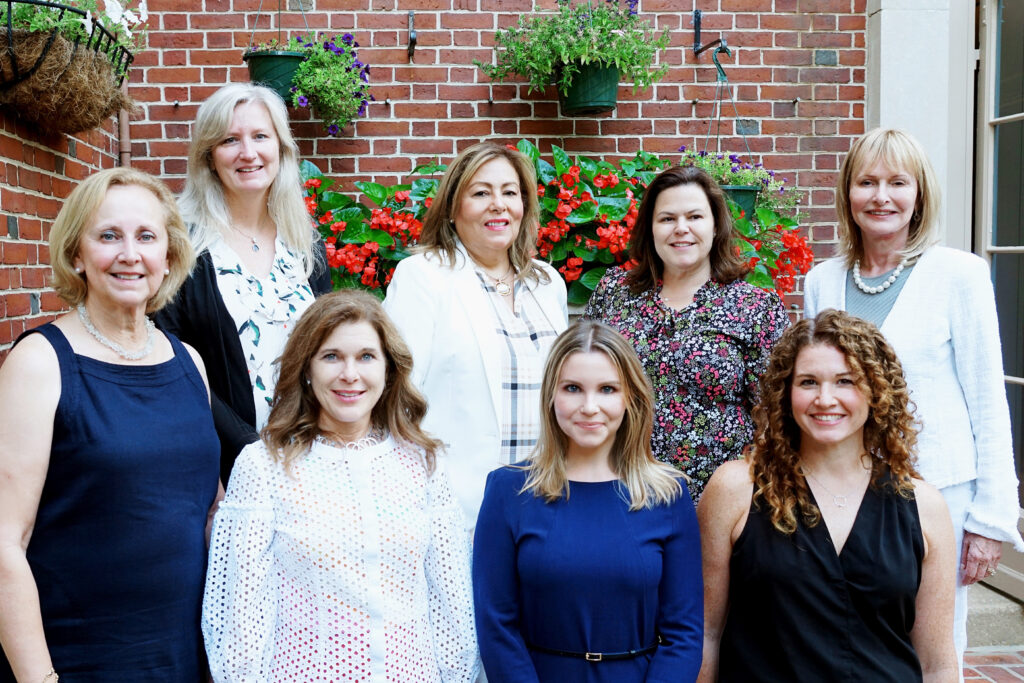 After a long hiatus from in-person events, WIN hosted a very special Summer Social. And WOW, what an amazing evening it was! The weather was perfect, food delicious and socialization was like none other in recent history as we hugged our friends, swapped our stories and hopefully made a new or two friend during the course of the evening. For an added twist, many took advantage of refreshing their headshots to embrace our updated looks. WIN of Philadelphia you are an amazing group.
As we look forward, we see plenty of opportunity for educational and social events. Please consider sharing ideas for events, speakers and your time as a volunteer.
Summer Golf WIN & CFAP-July 2021
Thanks to all those that came out for our first in-person golf event at Bluestone Country Club. We had a great turnout with 50 golfers taking the course! For those who had never even picked up a golf club before, there was a clinic to learn the basics. Golfers received an education on the different types of clubs and got lots of practice learning how to swing the club. For others, it was a short clinic and 4 holes of golf. This allowed those who were still new to the game to feel comfortable going out on the course. For our experienced golfers, it was nine holes and everyone enjoyed the beautiful (but hot) weather for a nice relaxing day of golf. It was so great to see everyone – for some it had been since March 2020 since they had seen their colleagues!
WIN would like to thank Women on Course for organizing our event as well as the CFA Society of Philadelphia for partnering with us and providing golf balls to all participants. We look forward to our next golf outing and hope that others will consider learning the game. It can be a great tool in your career!
Leading Yourself and Others with Strength and Purpose-June 2021
Members of WIN were virtually hosted by our corporate sponsor SEI for lessons on "Leading Yourself and Others with Strength and Purpose". Lisa Penn, SEI's Director of Coaching, led the group to discover more about their Top Five Talents launched via a pre-event CliftonStrengths assessment exercise. Lisa made a key distinction to participants – we can develop our strengths only by cultivating and growing these identified top talents. WIN members broke into small virtual groups to discuss one key strength and how that manifests to purpose and joy for our personal and professional lives. It was a great learning, networking and personal sharing event!

Participants received both the gift of the Strength assessment exercise as well as a complimentary book, StrengthFinder from Gallup, post event. Thank you SEI for your generosity and another great event to support WIN members and 2021 programming!
Diversity, Equity and Inclusion: A step back and a leap forward-May 2021
On May 19th, WIN welcomed Heidi Ridley (Co-founder and CEO of Radiant ESG) and Kathryn McDonald (Co-founder and Head of Investments and Sustainability of Radiant ESG) for a talk on Diversity, Equity and Inclusion: A step back and a leap forward. DEI is critical to corporate mission. Heidi and Kathryn warned of the dangers of cognitive dissonance within firms, i.e positive messaging around diversity within companies vs. people's true day-to-day experiences not mirroring the formal messaging.
Between 2015 and 2019 the representation of women in senior leadership has increased, but women continue to be underrepresented at every level. More facts & figures highlighted include:
○ Women earn more college degrees, yet men still earn more money.
○ The difference today in average earnings between women & men remains large.
○ Women of color, particularly black women, face even greater challenges along these dimensions.
Heidi and Kathryn spoke about why it's not only important to remedy, but also absolutely critical. They took both a micro (firm-level view) and a macro perspective. Corporations have a key role to play; the choices they make will shape the workplace for women and other groups for decades to come for better or worse. The key is building empathy & trust within our companies & communities.
Just a few of the benefits of diversity for companies are:
Delivers strong financial performance
Fosters innovation with diverse perspectives & inclusive cultures
Boosts reputation as a responsible employer
Leverages diversity & inclusion to engage talent
How can we not only bridge the gap but use this point in time as a jumping off point?
Thank you for joining us and we hope to see you at the next WIN event!
Cinco de Mayo – Happy Hour & Trivia-May 2021
Thank you for joining WIN's virtual members only happy hour and trivia celebrating Cinco de Mayo! Our gracious host, Judy Arnold, mc'ed an interactive and fun happy hour, trivia, and breakout networking session. Members honed their knowledge of all things Mexican, and got to know one another through small breakout groups. Three lucky members walked away with prizes by LILFOX Miami, a woman-owned skincare company, for top scores. We hope to continue this tradition, whether virtual or in person. Join WIN now to participate in our next members-only event!
Around the World in 60 Minutes: A look at hot spots and global trends through the eyes of a spyglass-April 2021
Carol Rollie Flynn was one of the first women to rise to top ranks of the CIA's Directorate of Operations, which oversees clandestine operations abroad. During her presentation, Rollie spoke of her career in the CIA and some of her challenges. Rollie shared stories openly from her male champions to peer struggles with stereotyping or gendered interpretation of deliverables. In her specific career path, she also relayed risky encounters and what it was like to hide the true nature of her work from family and friends. We ended on Rollie's insights on hotpots around the globe and what really keeps her up at night.
Carol Rollie Flynn is now president of the Foreign Policy Institute based in Philadelphia. A non-profit dedicated to producing the highest quality analysis on crucial issues impacting foreign policy, Foreigh Policy Research Institute is well worth adding to your news and information sources. Check out their calendar as many events are open to the public with topics like "Taiwan in the Era of Tsai Ing-wen" or "Enterprising Extremists: Crime, Religion, and the Business of Violence in Pakistan".
Many thanks to our sponsor, Boenning & Scattergood for suggesting and hosting this fascinating topic and to our gracious and remarkable host, Rachel Perlman!
Self Leadership: Expanding Our Mindset from Liability to Performing Asset Thinking-March 2021
As a result of many years as an organizational development, change management and leadership consultant to major financial services firms around the world, Terry Charlton realized that the most critical determinants of leadership were not knowledge and skill but rather mindset and attitude. This realization was the inspiration for Terry's Self Leadership philosophy and coaching practice.
Terry shared her principles on Self Leadership and tools for helping us move from a negative to a positive asset mindset as well as the importance of self-coaching and ways that allow us to move forward.
Attendees were invited to participate in small group breakouts to employ some of the tools. Click here for Self Coaching presentation and Self Leadership resources..
2021's bullish investing environment AND being a woman in a (traditionally) male-dominated business with Maris Ogg-March 2021
Thank you for last week's WIN event on 2021's bullish investing environment with Maris Ogg.
During the presentation, Maris spoke candidly about how the COVID-19 pandemic has changed the trajectory of the markets and economy, driven by underlying trends in healthcare, technology and digitalization of the way we do work. She also shared her story about how she managed through her career and provided insight into how she successfully navigated a traditionally male-dominated industry.
Women's History Month Happy Hour & Trivia-March 2021
Thank you for joining WIN's virtual members only happy hour and trivia celebrating International Women's Day! Our gracious host, Tracy Marrocco, mc'ed an interactive and fun happy hour, trivia, and breakout networking session. Members honed their knowledge of inspiring female trivia, and got to know one another through small breakout groups. Three lucky members walked away with prizes by LILFOX Miami, a woman-owned skincare company, for top scores. We hope to continue this tradition, whether virtual or in person. Join WIN now to participate in our next members-only event!
Higher Quality Communications: Packaging Your Plan and Presence-February 2021
"Life in a Fishbowl … or Zoombowl"
Sally Stalcup founder of Stalcup Consulting likened virtual client meetings to her time spent in the Peace Corps in Zaire – where everything she did was observed closely. So too, are our words, our expressions, our interactions on … pick your technology, Zoom, MS Teams, WebEx to name a few. Like it or not, we now all have "Star" status – our pre-meeting planning and post-mortem follow up are more important than ever. Sally shared valuable tips and tools to "Owning our Star status". PEP is the key: Pre-Mortem, Execution, Post-Mortem.
The natural break between meetings – driving to the next one – may be gone. It is now more important than ever to ensure you schedule breaks between meetings for a real time post-mortem – debriefing with colleagues or self-reflecting if you conducted the meeting solo. What worked, what didn't, what will you do differently next time, how can you follow up. Simple steps, but critically important to prioritize. Be strategic about your schedule! Creating engagement with clients is tougher than ever.
Try starting the meeting early to create an opportunity for casual, personal conversations and encourage everyone to keep their cameras on.
Outperforming Covid Volatility: A 2020 Journey—
January 2021
Gemma shared both her early career journey and her strategy during the 2020 Covid volatility last spring, where market volatility provided an opportunity to focus add value in the Treasury and TIPS portfolios she manages. Some key takeaways she shared around successfully navigating this challenging period, included:
Leveraged the 80+ years of collective experience of her team
Took advantage of a liquidity dislocation in prices of off-the-run (older) Treasury securities
Identified value in Treasury Inflation Protected Securities (TIPS) as inflation expectations dropped significantly.
Gemma also encouraged WIN members to step into new opportunities and stretch to the next level of professional growth. As an early female professional on the trading floor, she spoke about the climb to be recognized by male peers and the pathway it provided for professional growth in the fixed income arena. Learning to bridge skill gaps has also allowed Wright-Casparius to continue to move her career forward. Gemma encouraged attendees to continue to mentor young professionals to support their value and leadership potential.
It was an inspirational dialogue with Gemma Wright-Casparius, one of 27 industry female fixed income managers. Thanks to both Gemma Wright-Casparius and Lucy Momjian for a great member-exclusive program to kick off WIN's 2021 program year.
Virtual Coffee Chat with Anne Davey, Associate Director of Federal Affairs at The Hartford—January 2021
This Coffee Chat was a follow-up to our September Elections and Government: Impact on Investing event on September 24, 2020. The virtual chat provided a forum to share thoughts and concerns related to increasing political uncertainty, the US economy and the future of our country's government and party system. Anne shared her perspectives and addressed questions related to the the Biden presidency; potential tax code changes; the anticipated aftermath of the assault on the US Capital; and the impact of the Covid crisis on corporate hiring practices and the technology sector.
We look forward to having Anne back for another WIN event!
Annual Holiday Party Chocolate Tasting—December 2020
WIN members gathered on screen on December 10th for an evening to remember focusing on both giving and chocolate making. WIN encouraged members to give a gift to the Philadelphia Covid-19 Fund and to enjoy a discussion with Wm Chocolate. Will Marx, founder, provided four excellent varieties and flavors of chocolate to each attendee in advance of the virtual event. Will highlighted how his business launched, the art and science of chocolate making, and the selection of high quality ingredients to produce the best flavors for his customers from bean to bar.
An additional area of interest to attendees was Wm Chocolate's contribution to affordable housing in Madison WI where his business is located. The business landlord ia a private non-profit called Common Wealth Development (https://www.cwd.org). By offering early stage small business affordable rents and supporting job creation, the organization leverages net revenue from small business to keep residential rates affordable for low to moderate income renters.
Attendees are encouraged to take advantage of chocolate holiday specials from wmchocolate.com and spread the great chocolate offerings and virtual events to your firms, clients and friends.
---
---
COVID-19's Impact on markets, economy and communities—November 2020
FS Investments and WIN hosted an impactful panel of professionals on Thursday, Nov 12. Natalie Marvi-Romeo, Senior Advisor for Chestnut Advisory Group moderated investment thought leaders focused on the Covid Effect on our Economy, Investments, and Communities – Lara Rhame, Chief US Economist for FS Investments, Markita Morris-Louis, Chief Strategy Officer for Compass Working Capital, and Rachel Moran, Director of Financial Planning for RTD Financial.
The event launched with an audience poll on the number of attendees who are worried about the economy despite Q3 strong numbers – 90% worry about the continued downstream effect.
Lara Rhame gave an overview of the economy showing Philadelphia's metro area having higher unemployment than the national average – 10.8% v 7.5%. She also highlighted that state and local governments are stretched to balance their budgets amidst the outlays to residents with relief and unemployment support.
Rachel Moran provided a view of how they are helping their clients stay the course by providing a cash reserve fund with liquid assets to ride out the variability of the market.
Markita Morris-Louis gave attendees a realistic view of the challenge that their clients face for family self-sufficiency where 50% of their clients have experienced loss of income. They are only surviving and not thriving during Covid, with many struggling week to week. Her hope for 2021 is that empathy becomes more infectious than the virus.
---
---
Financial Services Career Carousel for Young Professionals—October 2020
Thank you to those who attended our Financial Services Career Panel on Wednesday, October 28th. It was a huge success thanks to our four panelists, who shared valuable insights about how to take control of your career and embrace new opportunities. Their perspectives on a range of topics – including pursuing educational opportunities, being confident as the only woman in the room, and more – helped young professionals from across the country learn about careers in financial services. We hope you enjoyed the event and made a connection with at least one other member of the audience and panelists.
If you'd like to get involved in helping plan a future event for the Young Professionals Series, click here to contact us!
---
---
Courageous Leaders—October 2020
Courage. This aptly named storytelling event had us all at the edge of our seats as Daniela Mardarovici (Macquarie) and Amber Williams (Lincoln Financial Group) shared their personal stories with WIN on October 13. We'd do their personal histories an injustice to recount them, but we can share a few poignant takeaways:
Bring your whole self to work
Courage IS personal
Don't be afraid of challenging conventional wisdom
Courage comes in different forms in different [life] stages
Your past can shape or mark you, but you don't have to let it define you
Courage can maximize yourself, but use it to maximize others' potential
A special thank you to Lincoln Financial Group for their sponsorship of WIN and to Wen Zannen and Maria Ma for this terrific event concept and for recruiting these inspiring speakers.
---
---
Elections & Government: Investing Impact— September 2020
On September 24, WIN was proud to host a dynamic panel on Elections and their impact on policy and process. The event was sponsored by Hartford Funds and moderated by Walter Garger, Hartford Fund's General Counsel. Our panelists included Anne Davey, Associate Director, Federal Affairs and Kathleen Mellody of the Investment Company Institute. We started with a light and anonymous poll about how participants are thinking about the election and what we think the outcome might be. Discussions about the accuracy of polling, the differences between popular and electoral college, delays in this election due to absentee ballots, the importance role the supreme court might be asked to play as well as key policies of the respective regimes on financial services and asset management. All were of the same mind on the common and popular message about the importance of voter participation.
Special thank you to Hartford Funds for their sponsorship and Julie Wilcox for helping to shape this idea into an event. To view a recording of the event click here.
---
---
Gender Lens Investing—September 2020
On September 15 , WIN had the honor to hear from three dynamic women, regarding Gender Lens Investing. The event was sponsored by Glenmede and moderated by Laura La Rosa, Executive Director of Client Development. Our panel included Julia Eynyart, Officer, Glenmede Sustainable and Impact Investing, Patience Marime-Ball, founder of Women of the World Endowment, and Katherine Klein, Professor of Management Vice Dean, Wharton Social Impact Initiative. The hearty conversation discussed the impacts of gender investing and we were fortunate to have three panelists with various backgrounds and perspectives in academics, portfolio management and investments. Our attendees were introduced to one of the fastest growing areas in sustainable investing. As always, we had the opportunity to ask questions and then network and engage with WIN members after the event.
Thank you Glenmede for continuing to be a sponsor and an inaugural host to a WIN event. We look forward to working with Glenmede again on other panels.
---
---
Dimensions of Presence—August 2020
The WIN Members in Transition Group was honored to welcome Terry Charlton, Owner, One Source Solutions, to the "virtual stage" on Thursday evening, August 6th. Terry walked us through her model "The Dimensions of Presence" to help members, both in-transition and not, to achieve the qualities of presence they want to convey to potential employers, clients, etc. Through Mechanics, Mindset, and Mindfulness we learned how to evoke a confident, deliberate impression of ourselves to others in our professional lives and beyond.
For further reading, three authors who inspire Terry are Brene Brown, Carolyn McHugh, and James Clear (the author of "Atomic Habits").
---
---
Privilege to Progress—July 2020
On Wednesday, July 29, WIN hosted a session on systemic racism in our country. In this important session, founders of From Privilege to Progress Melissa DePino and Michelle Saahene discussed how they have been tackling this topic since they met in April 2018 after witnessing two innocent black men being arrested for not buying a coffee.
The presentation was followed by a candid conversation on recognizing unconscious bias, addressing microagressions and holding ourselves accountable. Attendees were encouraged to educate themselves on these topics; a list of resources can be found under Membership Only Section on our website.
---
---
Member Coffee—July 2020
A warm thank you to Yolanda Plaza-Charres and Natalie Marvi-Romeo for facilitating our 4th Virtual Coffee Hour this past Saturday!
13 Wonder Women, we mean WIN members … well one and the same … participated in two 20 minute 3-person networking sessions. Actually, everyone found the first one so engaging that we ran out to time! On the fly, we lengthened the second one to 25 minutes.
When asked about next steps for virtual coffee chats, there was an overwhelming consensus that they should continue without a break for August! Given the popularity of this event, the next one is scheduled for Saturday, August 8th at 9:30am.
---
---
Servant Leadership—June 2020
On Wednesday, June 24 SEI Women's Network hosted the Women in Investing Network on ZOOM. Our speaker, SEI's Chief Risk Officer, Rhonda Cook regaled us with her topic "Servant Leadership" with poignant examples from both her military and her business careers. We were inspired by her personal stories, approach and pragmatic examples of leadership in action. For example, her "brand" of Servant Leadership included different approaches to inspire and lead depending on who is being led:
The audience (of well over 100) was so moved by Rhonda's candid, direct advice that one participant asked if she might consider running for office! We addressed topics like finding purpose (and helping others find purpose), letting go to encourage growth in the ranks, seeking opportunities for improvement and empowering others. We thank SEI, the SEI Women's Network and the individuals who made this event possible for their generous annual support and for the "Sugarwishes" gifted to the first 100 to sign up. Proceeds collected from registrations went to benefit the Community Food Pantry in Collegeville.
---
---
WIN Member in Transition Group Kick Off— June 2020
WIN launched our first "Members in Transition" group on Thursday, June 18th with a virtual gathering of members currently seeking their next role. Karen Kenney and Cora Pappas led the group through a thorough presentation on career search resources, strategies, and tips. We started by sharing introductions and elevator pitches with the group, as this is a key skill required when branding and marketing yourself. They also stressed the value of building your network which becomes your network of support. The discussion and engagement of the group was lively and participants shared practical ideas and experiences with one another. The group found the presentation to be very professional and helpful. Please see the PowerPoint for a recap of these resources to add to your career search toolkit, located in the Member-only directory page.
Thank you once again so much to Karen and Cora for leading the first ever Members in Transition group meeting! It was great to have such an interactive and motivated group to connect, share stories, and ultimately provide accountability and advice to one another in this forum.
We hope to continue meeting virtually for a series of four total sessions. Dates are to be determined. Keep an eye on your inbox for more details.
---
---
New Member Happy Hour & Trivia—June 2020
Thank you for joining WIN's virtual new members happy hour and trivia. Membership Chair, Kerry McCarty, welcomed 2020 new members with an interactive and fun BYOB happy hour, trivia, and breakout networking session. Members flexed their pop culture knowledge, shared stories, and got to know one another through small breakout groups. Three lucky members walked away with prizes (WIN wine tumblers) for top scores. We hope to extend this engaging diversion to all members in the future, capping the event at 20 members per. Brush up on your history, foodie and pop culture knowledge now for our next trivia session. Most importantly, please use WIN's website as a resource for connecting with other members via the Members Only section. Be well & see you next time.
---
Video Conferences that Get Results – May 2020
Thank you for joining WIN's virtual training for 'Video Conferences That Get Results'. Dr. Laura Sicola generously gave of her time and knowledge to train us on virtual presence. Need a refresher? Take the time to review the video and summary sheet attached. As they say, practice makes perfect, so get yourself a buddy from the training and start practicing.
---
---
Member only Coffee Hour – June 2020
A shout out to Yolanda Plaza-Charres and Natalie Marvi-Romeo for facilitating our 3rd Virtual Coffee Hour! 18 WIN members gathered early last Saturday morning for two interactive breakout sessions:
Career/Networking and Leading Teams
Philanthropy/Community Outreach
During the first breakout, the discussions were lively and participants came back to the larger meeting with great ideas about career and networking strategies. The second breakout was just as lively with many great ideas on how WIN can give back to the community.
A lot of thank you's from everyone! Great to have such an interactive networking catch up particularly given that it was an absolutely gorgeous Saturday morning.
---
---
Create an Impactful Branded LinkedIn Profile – May 2020
Thank you for attending our recent LinkedIn session with Anne Pryor. We hope it was beneficial as you focus on your improving your personal brands. Anne's message throughout was to Look Great, Be Found, Get Known and Make Meaningful Connections. Anne walked us through many helpful tips on having the right professional photo image, using key words that define your profile, providing thought leadership from your company or industry publications, and being known for your personal SME/subject matter expertise. As a recruiter, she also shared tips on how improve our chances of being found in searches.
In advance of the LI session, WIN member services conducted a pre-event lottery for those members in career transition. Anne then offered a complimentary before and after branding experience to the lottery winner and showed how her profile was greatly improved in SME searches by using key words, adding volunteer experience, and creating an overall updated brand. Anne wrapped by encouraging attendees to use this time to reflect on personal value and find the time to update our on-line profiles. For those who are allowed to post and recommend, we were encouraged to give generously to others in our LinkedIn communities and other networks.
---
---
Mastering Today's Challenges Together – May 2020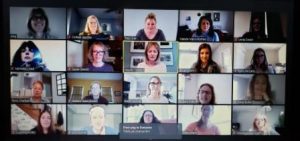 Over 20 WIN members gathered early last Saturday morning for the 2nd Virtual Coffee Hour to discuss "Mastering Today's Challenges Together". We started by sharing gratitude for the first line responders, grocery store workers, and food supply employees that continue to provide us with safety and nourishment. After a few online polls to generate ideas and share feedback on where we are all experiencing challenges, we broke out into groups of 4. The discussions were lively and participants came back to the larger meeting with great ideas about team engagement, juggling work/family, notes of gratitude and virtual remote presentation tips. See the resource sheet for some of the ideas.
Next, Maxine Dotseth led a discussion how to stay in leadership mode. The Virtual Coffee Chat was such a success, we ran a bit over – even on a beautiful Saturday morning. Many participants agreed they would like to have another chat (and spend more time in smaller breakouts)! Several topics were suggested: networking in a virtual world, helping women's philanthropies, supporting our WIN colleagues in transition.
A lot of thank you's from everyone! Great to have such an interactive networking catch up.
---
---
Get Confident on Video – April 2020
Over 50 WIN members and guests gathered on screen to learn the best tips to improve our virtual presence on Zoom and other video platforms. Dr. Laura Sicola of Vocal Impact Productions led the engaging and interactive event focusing on technical and communication techniques to improve our presence with colleagues, teams, and clients. Laura broke down simple techniques to enhance our work from home environments and ensure that we are showing up with our best presence.
---
---
Coffee & P.I.E. – March 2020
An engaged group of career enthusiasts gathered at the Women in Investing Network's (WIN) first Saturday coffee hour to learn and share ideas on smart and strategic work empowerment. Hosted in conjunction with SEI's Women's Network, Erin Garrett, an SEI Fixed Income portfolio manager, led the discussion on leveraging P.I.E. – Performance, Image and Exposure as a framework for various phases of our career trajectories. Erin shared her story on broadening one's brand by delivering value for your firm and your clients while strategically connecting with industry associates, mentors, mentees, sponsors, and our communities.
A strong theme focused on keeping track of accomplishments, both value and metrics based so we learn to artfully create our story and promote our brand. Getting feedback early on from managers and team members to both pivot and learn creates a foundation of proactive career management. Erin highlighted Landit.com as a tool to manage career goals and milestones.
---
---
Developing Compelling Presentations – February 2020
Rose Galloway, founder of Parsons Hills Group and investment industry voice, provided an engaging presentation to attendees of the February WIN event held at Aberdeen Standard Investments (ASI) and sponsored by ASI's Balance Network. Over 70 WIN members, guests, and ASI employees attended the event on Compelling Presentations.
Rose provided a framework for both formal and extemporaneous messaging to clients, internal stakeholders, and prospects. What is the emotional hook or challenge that we are trying to solve with our communication? Rose suggested that our messaging needs to be positioned, purposeful, and personal.
By framing our bottom line message first, then structuring all supporting content around that theme, we capture audience attention by communicating solutions and value, not products or strategies. She challenged the attendees to make their message resonate with a relevant story that is tailored to client need. Rose further captured audience involvement with engaging props and examples of dynamic attention grabbers.
Rose Galloway focuses her client and audience messaging with the goal that she leaves her clients and prospects with a better, more strategic communication approach by leveraging a value proposition supported by three tailored themes that meet specific, well-researched client need
---
---
Strategic Networking and Relationship Building – Member only Kick-off – January 2020
On Tuesday, January 28, WIN had the pleasure to welcome Jane Marcus, Senior Client Partner at Korn Ferry, to talk about the importance of building relationships and how to take the "work" out of networking!
Jane helped us think about what we, as professionals and as women, can do to build important and strategic relationships. Relationships, not just connections, can help us to cultivate our champions and influencers who will inspire us to be more confident, ask for what we want and what we can share instead of waiting to be noticed. Jane also encouraged us to think about our "purpose" and what we can do to use that purpose to help us grow both personally and professionally. She inspired us to be bold, brave, and fearless and build a personal advisory council where we both give and receive to our network.
Thank you Jane for imparting your wisdom, humor and honesty with all of us who had the privilege of being part of WIN's 2020 kickoff event.
And following up on this event, stay tuned for an announcement about an upcoming gathering in March where we can continue the conversation Jane started with us!
---
---
WIN Annual Holiday Social – December 2019
We are so grateful to those who attended our annual holiday party at Fleming's last Wednesday night. It was a great way to close out the year and we hope you enjoyed the food, wine, and company as much as we did. If you couldn't attend – we missed you!
As we reflect on this past year, it is clear that you have created strong connections, both old and new, through WIN and it was amazing to see that celebrated.
---
---
Negotiation Strategies and Conflict Management – November 2019
Negotiation Strategies and Conflict Management, hosted by WIN and SIG. Dr. Liuba Belkin shared her lessons, including how to get the best outcome from a negotiation by asking "why?" and incorporating ideas from both parties. The presentation included a lively and thought-provoking one-on-one negotiation exercise among attendees after which Dr. Belkin dissected and discussed. Dr. Belkin shared her passion for studying emotions with us and we look forward to following her ongoing research.
---
---
Lessons on Leadership – October 2019
Macquarie Investment Management hosted speaker Jim Ware, founder of Focus Consulting Group and an author of one of the best business and leadership books of 2018, High Performing Investment Teams: How to Achieve Best Practices of Top Firms.
Jim shared his lessons for leadership, including how to build high-performing teams using the enneagram to determine personality traits and associated strengths and weaknesses. The presentation was followed by an energetic discussion on inclusion, and the challenges that women face in the investment industry.
---
---
Investing Like an Institution – September 2019
FS Investments hosted a panel discussion with three industry experts to discuss trends in institutional investing and what individuals may learn from how pensions, foundations and endowments allocate their portfolios. The discussion focused on the benefits of including alternative investments to diversify their investment portfolios and add return potential. The panelists addressed liquidity, investment minimums, fees and the financial habits they have incorporated into their everyday lives.
---
---
Annual Summer Social – August 2019
Over 50 WIN members gathered at the Overbrook Golf Club to enjoy a summer evening of networking and refreshments. This year we hosted John Wind and Jennifer Brown of the John Wind collection representing vintage and modern jewelry and accessories.
John Wind contributed a share of the evening's proceeds to benefit WIN's designated charity, Back on my Feet. Back on my Feet focuses on helping Philadelphia homeless people gain independence and living skills.
After attendees completed WIN's annual member experience survey, a drawing was held for John Wind gift certificates and floral arrangements by Annette Chang.
---
---
Transformational Leadership – 2019
Lincoln Financial Group hosted a conversation about Transformational Leadership, during which Jamie Ohl and moderator Sharon Scanlon discussed how leaders can transform an organization. They discussed the difference between strategy and goals, and how to look beyond simply hiring the right individuals to focus on hiring the right team. During the audience Q&A, Ohl addressed that individuals at all levels of an organization should understand how their day-to-day jobs fit into the bigger picture and feel empowered to flag if anything they see isn't contributing to helping the team achieve the strategy set forth.
---
---
Behind the Scenes of a Corporate Earnings Call – June 2019
SEI hosted a Behind the Scenes of Earnings, a panel discussion where the buy-side, sell-side and management shared their perspectives on earnings and why earnings matter to everyone. The panelists explained the importance of listening to the tone and confidence of management as well as the Q&A portion of the calls. They also shared war stories and lessons learned in covering companies from a various industries. The conversation concluded with resources available to learn more about earnings and current events by reading the Wall Street Journal, Seeking Alpha, RobinHood Snacks and listening to CNBC and Bloomberg Radio.
---
---
CFA & WIN Golf Outing – June 2019
WIN and the CFA Society collaborated on a delightful afternoon of golf for all skill levels at the beautiful and accommodating Bluestone Golf Club in Blue Bell. Tapping into Women on Course for event logistics and golf attire shopping, WIN/CFA recruited an able partner to execute an often challenging event idea.
We had full use of Bluestone's Bar and Grill room adjacent to the Pro Shop before and after our golf activities which allowed for additional networking opportunities. Bluestone's professional staff, let by Chris Gardiner, were organized, attentive and engaged with our group, making us feel welcome at all times. The course featured a driving range, pitching area and practice putting green for our use throughout the afternoon.
---
---
Retiring the "Old Age" Story – May 2019
WIN's May event hosted by Hartford Funds, featured Stephen Parnell, Managing Director of Strategic Markets at Hartford. Working in partnership with MIT Lab, Hartford is investigating and challenging the ideal of "old age" and what that means for the shifting idea of retirement.
Steve generously shared with us his recovery journey from a stroke. The WIN audience was lucky to be the recipients of his first presentation since his health event. We were all amazed to understand some of his journey and the perspectives he shared with us.
Aging and retirement are often "things" that happen to other people. The greater longevity of men and especially, women necessitate that we think in new and creative ways.
In 1995, only 14% of people surveyed indicted they would work past age 65. In 2017, 74% of respondents indicated their desire to work full or part time after the traditional retirement age.
This diverse group of consumers representing every possible level of health and wealth is worth about $8 trillion in the United States alone. It cannot be ignored.
Steve shared some of the myths around retirement, including:
You're Going to Retire at 65
Retirement Is All About Fun and Leisure
You Won't Work Anymore Because Social Security and Medicare Will See You Through
You'll Always Be Traveling
Your Kids Will Take Care of You While You Spend Lots of Time with the Grandkids
Florida Is the Best Place to Retire
You'll Ultimately End Up in a Nursing Home
Employers Won't Hire You Because You're Too Old
Steve highly recommends, The Longevity Economy, Unlocking the World's Fastest-Growing, Most Misunderstood Market by Dr. Joseph Coughlin, as a great reference to the changing landscape of retirement.
Hartford Funds also shared their worksheet with WIN participants, "A day in the life of the future you." Both resources will help further your understanding of transitions to the next phase of your life and the lives of your clients.
---
---
Finding Opportunity in Private Markets – April 2019
WIN's April event showcased an insightful overview of the Private Markets by two of Hamilton Lane's investment professionals and industry voices, Andrea Kramer, Managing Director of the firm's global Fund Investment Team and Emily Nomeir, Principal and Head of the Taft-Hartley Client Relations team.
The evening highlighted the Market Overview conducted each year by Hamilton Lane's analysts, investment and research teams in conjunction with data from client partners and industry fund leaders. The private markets continue to grow and mature with well over 1,000 private placement memorandums reviewed by Hamilton Lane in 2018.
The discussion focused on the status of fundraising, performance, data demands, risk, investment strategy and liquidity. The growth of private equity is evidenced by exposure and market cap at $500B in 1999 to now $4.9T in 2018. The audience engaged the speakers with questions on risk and where the market trends are headed. The speakers concurred that longer hold periods were common with seven years being average for buyout deals.
The wrap up included Hamilton Lane's profile on how to build a portfolio for today's market. Key elements included – don't market time, choose quality managers with prior cycle experience, choose sector specialists wisely and sparingly, and be tactical by thinking about the shape of the next downturn.
---
---
The New Networking: Building Relationship Capital Online and In Person – March 2019
WIN welcomed Sameer Somal, founder of Blue Ocean Global Technology on March 21, 2019 at an event sponsored by Stradley Ronon Stevens & Young, LLP. Sameer presented novel ideas on networking in the digital age, helping WIN members learn to establish their digital reputation and build stronger relationships through thoughtful interactions.
---
---
Find your voice and live your authentic life – January 2019
We hope all who attended the networking event on January 31st found value in VOCE Consulting founder Ginny Palmieri's conversation with us about Political Savviness and its impact on our professional engagement and successes. As she emphasized, this is a critical skill that can be learned and leveraged to achieve business objectives through formation of alliances around common goals. Mastering these skills can also enable us to strengthen our voice when we need to advocate for our ideas and projects, influence allocation of human and financial resources, and position ourselves for growth and advancement. Her book, "Unspoken – Finding Your Voice and Living Your Authentic Life", which was a takeaway for the evening, will spark your thinking and imagination around how to learn to be an influencer and a leader in both business and life.
© 2019 Photo by Jeannie Feliciano, Blue Phoenix Business Services. Used with permission.
---
---
WIN Holiday Social – December 2018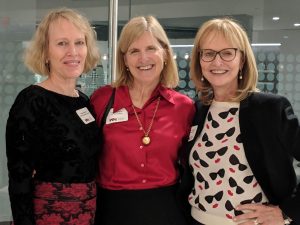 WIN members celebrated another successful year at the annual holiday party graciously hosted by CBRE in their newly renovated space. WIN members enjoyed delectable food and wine provided by Fleming's Prime Steakhouse. Members reflected on a year full of engaging discussion and career development and focused on an exciting look ahead to 2019. WIN founding members offered appreciation and gratitude to everyone for their continued participation and engagement. Join us next year for another unique opportunity to connect with other WIN members!
---
---
Leading Change and Maximizing Performance – October 2018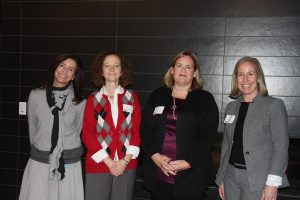 Left to right: Cathy Grimes, SIG, Alice Lindenauer, Hamilton Lane, Alison Rodgers-McCoy, Brandywine Global Investment Management, Molly Bogan, Hartford Funds
Thank you to a dynamic panel of industry human resource leaders and Brandywine Global Investments for hosting October's WIN event on Leading Change and Maximizing Performance. Alison Rogers-McCoy kicked off the program with an overview of how Brandywine Global has re-tooled their performance management process by listening to employees and engaging management across the firm's disciplines. It has been most effective by providing simple tools and encouraging dialogue to "look ahead at goals" and shift from a more traditional rear view mirror discussion.
Panelists Cathy Grimes from Susquehanna International Group, Molly Bogan from Hartford Funds, and Alice Lindenauer from Hamilton Lane all shared how their firms have embraced change, encouraged innovation, and focused on leadership development for their employees and managers. A common theme was blending employee interests with corporate culture to create a respectful and productive workplace.
As leaders were polled on what leadership skills they look for in recruitment these four skills were highlighted: learning agility, execution, self-awareness, and civility. The audience Q & A provided an interactive environment to discuss how leading change and maximizing performance can enhance personal career development.
A portion of the evening's registration proceeds will be donated to Brandywine Global Investment's charity of choice Living Beyond Breast Cancer, honoring Breast Cancer Awareness Month.
---
---
Social Impact Investing Today and Tomorrow – September 2018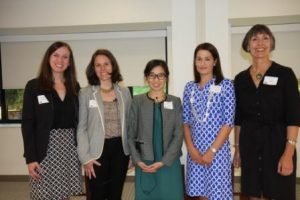 Let to Right: Lianna Peto, Hartford Funds, Emily Thomas, Morgan Stanley, Quyen Tran, Wellington Management, Tara Hedlund, Pennsylvania Trust, Meg Vorhees, US SIF
The Social Impact Investing Panel on 9/19 was incredibly insightful. Social Impact Investing has come a long way since WIN first discussed this topic a few years ago. Millennials and older females are a couple of the demographic groups asking for more social and impactful investing methodologies. Panelists were energized by that fact that today there are a number of available indices with multiple years of data allowing for meaningful benchmarking. These ESG focused benchmarks and more commonly used benchmarks together can show that the return on these ESG/ SRI investments is competitive and in many instances outperforms as compared to other investment strategies. One panelist was looking forward to more SRI/ ESG options in different asset classes coming available. Another panelist shared the hope that the UN sustainable development goals will assist in moving the needle. This increased availability of social impact investing data should lead to investors demanding accountability in reporting and further inroads.
---
---
Summer Social – August 2018
A special thank you to our host for the 2018 Summer Social, WIN member and Program Committee volunteer, Christine Walker Nerney. Her beautiful home and garden was a wonderful setting for our annual WIN summer networking soiree. For those of you who joined us, thank you for making the evening memorable and fun.
---
---
ETF Momentum: The Accelerated use of ETFs – June 2018
Thank you so much to SEI for hosting the "ETF Momentum" kick off to summer event on their scenic back patio. Speakers Bryan Hoffman of SEI, Jamie Gershkow of Stradley Ronon and Dominika Gergely of BlackRock provided tremendous insight into the ETF market including record growth trends, legal and regulatory considerations, and debunking several myths consumers have regarding ETFs. WIN is happy to make a charitable donation to Mom's house with the proceeds from the event.
---
---
Current State of the Economy and Update on Trump's Tax Reform May 2018

A great, big thanks to Denise McNamee, Olga Blyweiss and Lauren Bresnahan from KPMG for making our recent WIN event: Current State of the Economy and Update on Trump's Tax Reform, a fantastic success. Not only was the food delicious, the networking fun, and a gift donated to "Back on my Feet, " but all participants went away smarter about the impact of the new tax law on their personal situations. And the bonus of the evening was hearing the perspective that we can anticipate continued economic success for the foreseeable future.
What a perfect kick-off message for what we anticipate will be a relaxing and sun-filled summer season for everyone.
---
---
Storytelling: An Essential Leadership Tool – April 2018


What do effective leaders have in common? Superb communication skills. And what is one of the best ways to communicate? Through stories. Our Tell Me a Story session on April 26th, presented by Hillary Rea, inspired deeper connections to those with whom we work and enhanced the communication skills of attendees.
---
---
Leadership Through Others: Connecting and Influencing
March 2018
At WIN's March 28 meeting, leaders from Lincoln Financial Group share their strategies to connected with people-on your team, within your group, or in your industry-and guide actions to achieve your desired results. Maria Ma, Assistant Vice President, Fixed Income Portfolio Manager will moderate the discussed with Carrie Chelko, SVP & Chief Counsel, Distribution, and Evelin Potts, Assistant Vice President, Diversity and Inclusion.
Primarily focused on diversity, inclusion, mentorship, and community involvement.
---
---
Financial Planning for Women by Women – February 2018
Janney Montgomery Scott (Janney) hosted a dynamic panel discussion on Financial Planning by Women for Women. This highly popular session attracted over 120 investment professionals who were interested in moving their financial goals to the top of their priority list.
Joslyn Ewart, a founding partner at Entrust Financial LLC moderated the panel of four highly accomplished financial advisors – Sheila Shaffer of Janney, Lynn Erskine of Drexel Morgan Capital Advisers, Jocelyn Wright of the American College and Michelle Tate of Boenning & Scattergood.
In their discussions, the panelists focused on the importance of communication during the planning stage. They explained the value of setting clear investment goals and the benefit of compounding from a consistent investment strategy over the long term. The panelists shared key questions that investors should ask when interviewing future financial advisors. They also provided clear steps that investors should take to get the most out of their financial advisor relationship. Finally, attendees learned about the differences between financial advice and financial planning.
Suggested reading, financial advisor panelist contacts, and handout resources are available on the WIN web site.
To close the session, all WIN members received a copy of Joslyn Ewart's book: Balancing Act: Wealth Management Straight Talk for Women. The book proceeds overall were directed by Entrust Financial to a Temple University scholarship fund for students with financial need.
WIN commemorated the evening by contributing the evening's event proceeds to Janney's designated charity, Girls Who Invest. To highlight WIN's annual Bring a Friend event, Bridget Gossner of Janney received a complimentary membership to the WIN organization for 2018.
---
---
The Rules of Negotiation – January 2018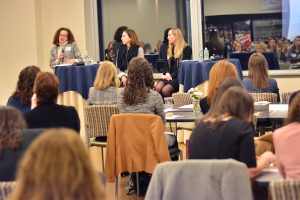 Hamilton Lane hosted an incredibly insightful and sold out 100+ person event "The Rules of Negotiation" last Thursday. Alice Lindenauer of Hamilton Lane's Global Human Resources Group kicked off WIN's fist event of 2018 and noted that all registration proceeds from the event went toward Girls Who Invest. The total donation amount was over $1,400 which will aid in their mission to increase the number of women in portfolio management and executive leadership in the asset management industry.
Event speakers, Senior Corporate Counsel Laura Warren and Corporate Counsel Kristin Jumper provided four clear steps for attendees to consider when negotiating professionally and personally. Key steps are below with one point noted for your review:
1) Prepare: Identify your "must haves" and list your objectives.
2) Propose / Discuss: Be clear, listen carefully, ask questions and identify opportunities for mutual gain.
3) Bargain: Conserve your concessions. Don't give too much away too soon and don't be afraid to say "no."
4) Agree: Summarize results to confirm agreement and memorialize them in writing.
Laura and Kristin also noted that the way you say it is almost as important as how you say it. The two rounded out the conversation by stressing the importance building relationships with negotiating counterparts to engender trust and positivity.
All attendees received a WIN notebook and WIN pen!
---
---
WIN Annual Holiday Party – December 2017
The holiday season is the perfect time to celebrate your professional and personal accomplishments for 2017 and look ahead to where you want to go in 2018 and beyond. Attending the WIN Holiday Party at Fleming's Radnor is a great way to do both.
Enjoy delicious bites and wine, a festive atmosphere, and, most importantly, the company of WIN members.
---
---
Blockchain and Investment Opportunities in Digital Currencies November 2017
On Thursday, November 16 SIG hosted the Women in Investing Network at their offices in Bala Cynwyd with a popular and engaging topic – "Blockchain and Investment Opportunities in Digital Currencies". This topic attracted a diverse audience as WIN members were joined by male colleagues and new or aspiring members. The crowd of well over a hundred was introduced to Blockchain by Tom Alex a Principal Consultant and Director of Technology at Meradia Group. Tom helped us gain a greater appreciation for the relatively simple but difficult-to-conceptualize technological underpinnings of blockchains in general and how this technology makes crypto-currencies, like bitcoin, possible. Stacey Gilbert, Head of Derivative Strategy for SIG, picked up the conversation delving into investment opportunities and, in particular, the opportunity and magnitude of the digital currency market. We were all impressed (and somewhat astounded) by the size and growth of the digital currency trading market. We went well-beyond our planned end-time as audience members peppered our presenters and other members of SIG's technology team with questions. We thank SIG for their generous hospitality and all their efforts to make this fantastic event a reality.
SIG was proud to welcome the Women in Investing Network of Philadelphia to our headquarters. Over 100 guests and SIG employees enjoyed a catered reception, networking, and talks on blockchain and cryptocurrency. Our own Stacey Gilbert shared her knowledge of how blockchain technology is applied to cryptocurrencies like Bitcoin and Ethereum. Thank you to everyone who joined us!
---
---
Pennsylvania Conference for Women – October 2017
The PA Conference for Women continued its mission to educate and inspire in 2017. WIN members represented 50 of the 12,000 women in attendance seeking to gain career and personal insights into topics such branding yourself to achieve career goals, authentic leadership, and power, parity, and influence.
The conference's special distinction: a fireside chat with Hollywood producer Shonda Rhimes and former First Lady Michelle Obama. Always well spoken, the former First Lady described her pre-White House years as a balancing act of working and raising two daughters. She credited the flexibility she had with work hours that enabled her be there for her daughters on a day-to-day basis. She also discussed her belief in instilling strength in women at a very early age by listening to them actively and encouraging them to assert their voices. In addition, she relayed the importance of taking a seat at the table – with confidence, speaking without fear – as well as her belief that diversity at the problem-solving table is crucial to decision making. Attendees were also treated to a brief video of the former President, Barack Obama, offering a wedding anniversary tribute to the former First Lady.
---
---
Smart Beta – September 2017
Matthew D. Jiannino, Paul J. White, Erich Hickey, Kirsten Meder, Lianna Peto
The WIN smart beta panel hosted by the Hartford Funds, at their new facility in the Chesterbrook Corporate Center, met with great success. The panel discussion focused on how smart beta strategies are utilized, implemented, and what's next in this space.
The smart or "strategic" beta strategy fills a gap that lies between passively managed index-based ETFs and actively-managed mutual funds. The goal of smart beta ETFs is to target investments based upon specific factors (e.g., momentum, quality, value, volatility and size) versus a market-capped based index strategy. Smart beta ETFs offer investors more thoughtful exposures based upon their goals and – despite tracking multiple indexes – cost less than actively-managed funds. As is the case with all other investment strategies, the amount of exposure is crucial; and smart beta investments should be considered in a portfolio as a means of diversification.
---
---
Summer Social – August 2017
A special thank you to our host for the 2017 Summer Social, WIN member and Program Committee volunteer, Christine Walker. Her beautiful home and garden was a wonderful setting for our annual WIN summer networking soiree. For those of you who joined us, thank you for making the evening memorable and fun.
---
---
Economic Update with Lara Rhame – July 2017
The WIN mid-year economic update with Lara Rhame, Senior Economist at FS Investments was a great success. In attendance for Lara's engaging analysis were over 90 WIN members and FS Investments employees who enjoyed pre- and post-event cocktails and conversation at FS Investments' offices located in the Philadelphia Navy Yard. The environment was festive and was influenced by bright and open spaces, modern art and delicious hors d'oeuvres prepared by FS Investments' in-house chef and catering team. Lara's delivery of economic indicators was both upbeat and succinct and included 3 takeaways: the current 2% GDP growth – which is also expected to remain the same through 2018, is the "new" 3%; business pending is key to further GDP expansion; and the financial markets have gotten ahead of fundamentals.
---
---
Forecasting Emerging Markets – April 2017
On April 18, Brandywine Global Investment Management hosted WIN's Emerging Markets Panel discussion, one of WIN's largest attended events with over 60 attendees. Liz Stevko (Brandywine Global) served as moderator and framed the importance of the asset class citing that emerging markets make up 85% of the world's population and well over 70% of global GDP growth. Panelists Karen Bater (Aberdeen Asset Management), Richard Lawrence (Brandywine Global), and Sandra Ackerman-Schaufler (SEI) shared their insights on emerging markets including the biggest risks and opportunities from an investment perspective. There was diversity in the discussion – contrasting emerging markets stocks, corporate bonds, and sovereign debt issuance. Inevitably, there was lively dialogue regarding China's economy and contributing growth profile as well as the relationship of emerging markets to commodities. The expert panel insights were complemented by audience questions and a welcomed amount of levity.
---
---
The Power of Influence – March 2017
Influence opens the door to personal and professional success, prosperity, and fulfillment." -Sara Canuso
WIN's March 23 event, located at the Harvest Grill in Radnor, was a great success. With a focus on personal development, the event featured Sara Canuso, seminar leader and author of You've Always Had the Power. Sara discussed internal and external skills behaviors needed to generate positive influence, which are built upon the foundation of being comfortable with who we are and knowing what we can bring to the table. While confidence, leadership and influence lead us on the way to reaching our fullest potential, we must be mindful of first impressions that are influenced by dress, body language and posture.
---
---
Crafting a Career in Financial Services – February 2017
WIN held its 10th Anniversary celebration on February 23 with an engaging panel of women in finance professionals highlighting Crafting a Robust Career in Financial Services. Hamilton Lane graciously offered their corporate headquarters as WIN's event venue. Alice Lindenauer, GHRO of Hamilton Lane, served as panel moderator and opened the meeting with perspectives on the state of female executive advancement in the financial services arena. Alice reported that there is a lack of role models at the top serving at executive committee and senior levels of investment firms. She highlighted initiatives to move the needle on closing the career advancement gap such as creating work flexibility, returnship programs, family support benefits, promotion and equal pay, networking, mentorship, leadership programs and targeted recruiting. A copy of Alice's industry perspective is available here.
WIN Co-Founders and panel members, Tracy Musser of Thompson, Siegel and Walmsley and Sharon Hayman of Jackson Square Partners, provided their personal motivation stories on their career journeys and WIN's founding in 2007. Their mission to empower women in investments throughout their careers has created a nucleus to promote professional development, industry education and networking opportunities for industry women. Panel members Cindy Axelrod of Temple University's Fox School of Business and Tricia Rotella of the SEI Private Banking Group, also shared their stories of career growth in taking on new roles, working with mentors, and advancing their careers in going beyond comfort zones.
WIN's Co-Founder and Co-President, Tracy Musser, highlighted her vision for WIN for the next 10 years – helping young women in finance through mentoring, continued growth in creating value for key firms and individuals in the region, and expanding WIN's goals to include broadening the inclusion of male colleagues in the industry.
The event registered a record attendance of over 90 members, guests and women in finance college students from Temple University, Drexel University and Villanova University. Please view our photo gallery here for further highlights of the 10th Anniversary event.
---
---
Learn with Leaders: Conversation with Ellen Cooper – February 2017
On 2/1, WIN had its kickoff event of 2017. There were over 50 registrants eager to hear Ellen's market insights and career advice.
In regards to the market, Ellen conveyed that she is feeling generally optimistic, although she expects a lot of volatility along the way. She said she is relieved that rates are where they are with inflation around 2% and unemployment around 4.7%.
Ellen gave some great advice and professional guidance to attendees. She recommended owning your mistakes; get in front of them, communicate and execute a plan to fix the mistake. She is an advocate of continuous learning and stays up on current events focusing on the three most important things that are going each day. She also noted that it is incredibly important to reflect on feedback and to be open and willing to change.
---